How Does Vitamin B12 Liquid Boost Your Health?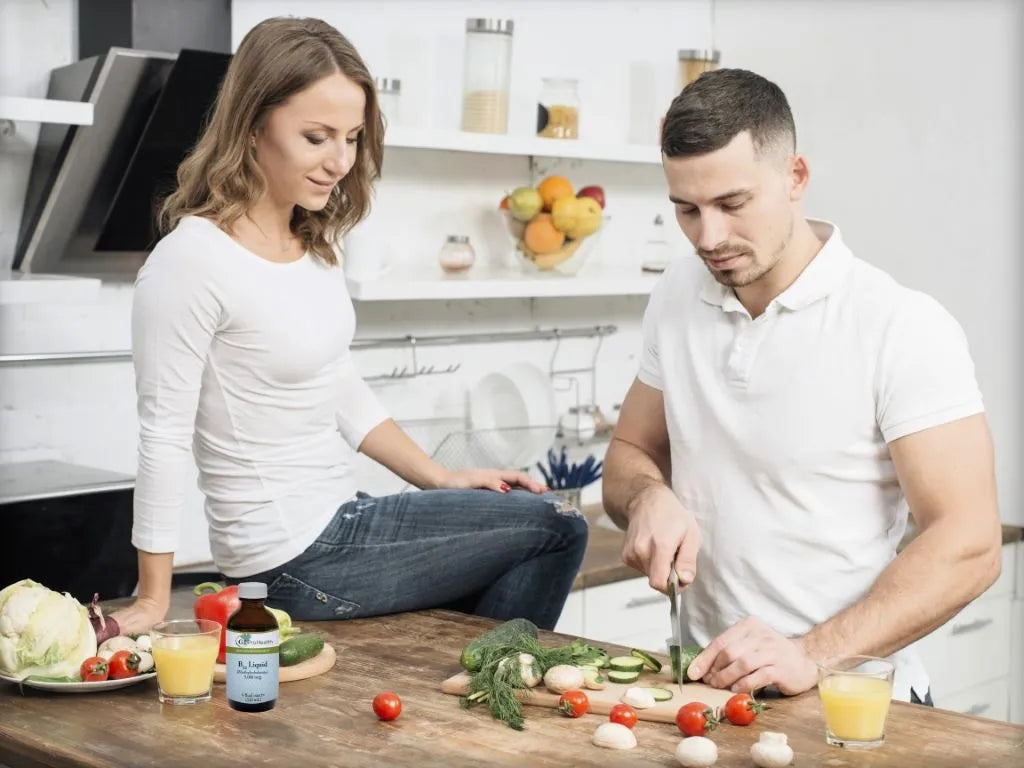 Everyone needs daily adequate nutrition to facilitate necessary bodily functions inside and outside the body. Unfortunately, not all the meals we consume today are nutritious, creating a visible lack in our food's nutritional profile. Our body needs various rich vitamins and minerals for healthy functioning; vitamin liquid b12 is one of them. It is a water-soluble vitamin that assists in numerous bodily functions. This vitamin is also essential for energy metabolism, red blood cell formation, DNA synthesis, nerve functions, and much more.
Human bodies don't produce b12 liquid, so consuming food rich in this vitamin becomes crucial. It is found in numerous animal products, like eggs, dairy, fish, and meat. People who don't consume these animal-based products, primarily vegetarians and vegans, have difficulty sourcing quality vitamin b12 sources. It is where supplements come into the picture.
Whether you don't consume animal-based products or your current diet doesn't contribute to enough vitamin liquid b12 requirements, taking supplements can help everyone fulfill the daily minimum requirement. This water-soluble vitamin can help boost your health in the following ways.
Helps Prevent Anemia by Supporting RBC Production
Also known as cobalamin, vitamin b12 liquid is known to help human bodies produce more red blood cells naturally. If your body gets into deficiency mode, your red blood cell production will be hindered. Red blood cells appear as round and small cells in healthy conditions, but a deficiency of this vitamin can make them oval and visibly larger.
This irregular shape prevents the cells from seamlessly moving from the bone marrow to the bloodstream at the right pace, leading to megaloblastic anemia. It will pave the way for weakness and fatigue, disrupting your everyday tasks.
Aids in Cognitive Brilliance
One of the prime benefits of liquid b12 is its ability to help people unlock their cognitive prowess. This water-soluble vitamin plays a multifaceted role in improving your brain health. It is known for improving memory, focus, and other cognitive functions necessary to perform simple and complex tasks.
Vitamin b12 helps synthesize neurotransmitters responsible for regulating mood and improving overall emotional well-being. By incorporating high-quality b12 supplements into your daily diet, you can help your brain perform optimally. In a nutshell, it can sharpen mental acuity, improving your quality of life.
●     Supports Bone Health
In a world where junk food consumption reigns supreme, there are high chances that your body lacks the necessary vitamins and minerals to support bone health. People with vitamin b12 deficiency may be more prone to develop bone-related health problems like osteoporosis.
A PubMed study highlights a study conducted on 110 people with celiac disease. According to the study, low vitamin b12 liquid was linked to lower bone mineral density among males. The lower density was primarily in the hips and femur, leading to bone disease.
If this lower bone mineral density isn't treated at the right time, your bones can become fragile with time, opening doors for various other bone-related health challenges. Numerous reliable studies highlight a direct link between poor bone health and vitamin b12 deficiency, so ensure you don't let this deficiency occur.
●     Elevates Energy Levels
Vitamin b12 is a vital catalyst your body needs for energy production. This water-soluble vitamin ignites a series of linked biochemical reactions that seamlessly convert consumed food into energy. By consuming b12 supplements, you can optimize and accelerate the biochemical reaction, producing more energy.
It can be excellent for people who regularly experience fatigue and weakness for various reasons. We need energy for every task, so whether you're trying to resume your fitness journey or get more done at your office, meeting the daily liquid b12 requirement can help elevate your energy levels. 
●     May Reduce Macular Degeneration
With age comes numerous health challenges, and macular degeneration is one of them. For the uninitiated, it is a progressive eye condition primarily affecting older adults, especially adults over 50. Macular degeneration can cause loss of vision and permanent blindness in some cases. If you want to keep such conditions at bay, keeping up with your daily nutritional requirements can help. Vitamin b12 can help improve the damage incurred in blood vessels in and around the retina, aiding visible improvements over a period.
According to researchers and scientific studies, addressing vitamin b12 deficiency can lower homocysteine levels. It is an amino acid linked with an increased risk of macular degeneration. Although more studies are needed to unanimously agree on this benefit, plenty of studies support it. However, people should only take supplements after consulting a licensed medical professional.
Building Up Nervous System's Resilience
Vitamin b12 is crucial for myelin production, a crucial substance enveloping nerve fibers. It is responsible for the swift and efficient transmission of nerve signals. When you maintain the ideal vitamin b12 levels in your body, your nervous system becomes better equipped to prevent potential damage and promote smooth information flow throughout your body.
As a result, your body experiences better coordination, neural vitality, and balanced reflexes. If you want to strengthen your overall nervous system, taking b12 liquid supplements can help.
Improve Your Overall Health with Top-Notch Vitamin B12 Supplements
A healthy and well-functioning body isn't a luxury but a necessity in today's life, and it will always be. Ensuring your body receives enough liquid b12 is the easiest way to help it function optimally. B12 is a water-soluble vitamin known for helping to keep blood and nerve cells healthy.
It also assists in DNA synthesis, improving cognitive functions, boosting energy levels, and much more. If you want to enjoy its diverse benefits, consider taking b12 supplements. You can consult your doctor to find the right supplement and dosage matching your body's requirements.